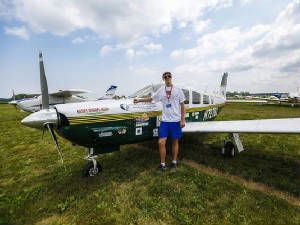 OSHKOSH — Mason Andrews is 18 years, 120 days old. It's important to keep count.
If all goes to plan, by the end of the week he'll be youngest pilot to cross the Atlantic Ocean solo. In 40 days' time, with stops in places like Croatia, Egypt and Taiwan, he hopes to hold the record for the youngest pilot to circumnavigate the globe solo.
Andrews, an aviation student at Louisiana Tech University, landed in Oshkosh on his first stop of the flight, parking his PA-32 Lance, The Spirit of Louisiane, near the end of the grounds.
The current record holder is Lachlan Smart, an Australian who was 18 years, 7 months and 21 days when he accomplished the feat. If Andrews sticks to his 40-day timeline, Andrews will beat Smart by a few months.